FREE INTERNATIONAL SHIPPING

  NO HASSLE RETURNS

  CUSTOMER SATISFACTION IS OUR PRIORITY

  EXPERT CRAFTED
WORRYING ABOUT YOUR BABY FALLING?!
You can't always be there to catch every fall and having something that is always there to make sure that your baby is safe is helpful, right?  Well get rid of your tensions and fears with this cute head protector! Not only does it provide your baby safety it is also quite adorable and also provides a soft cushy sleep for your little ones!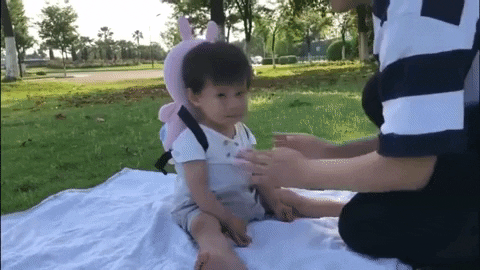 Put a smile on your baby's face with this head protector and take away the worry of your precious baby's safety. This protector covers the back of your baby's head which protects your baby when they fall backwards. Another bonus is that you won't even need to touch your baby's head to put on this protector!
HIGHEST PROTECTION

ADJUSTABLE STRAP
VERSATILE USAGE
LIGHTWEIGHT & CUTE
Pick between a Dragon or Butterfly inspired head protector and watch your baby's adorable factor immediately increase! It's vivid color and comfortable design will ensure that your baby is the cutest most protected baby on the playground. 

The shoulder straps can be adjusted to conform to all sizes so they're free to walk, crawl or run. With the flexible strap, your baby will feel cozy every time. The soft and lightweight material does not put any pressure on your baby's shoulder. 
OUR GUARANTEE
Not satisfied with your order? No worries! Let us know within 14 days and we will give you
a stress-free refund.